Excalibur
-The legendary sword Excalibur is only able to be used by Heavens aka King Arthur. If anyone else is to use this sword it will weigh as much as two massive boulders. Due to Miles being a part of Heavens he may carry the sword but not use it. As a result he can have it in it's sheathe on him but not drawn. If drawn by Heavens his ooze manipulation is blocked but is granted control of a heavenly light which has several possible affects. One is it can seer through most materials known by man. Another is it can heal wounds incredibly fast. A third is it can blind anyone gazing into the light for an extended amount of time. The fourth and final affect is it can grant flight via heavenly wings. He is even given a suit of knights armor with a shield with the emblem of the knights of the round table marked on. To add to this Excalibur even has a staysharp like edge that is NEVER worn down or dulled even if swung and sliced through a boulder in one swing. However this is one of the two blades among Miles's arsenal that is immune to shaping making concealing this blade a challenge as it cannot be broken down and reshaped. Miles conceals the blade by shaping a big military type backpack which conceals the blade's looks and shape.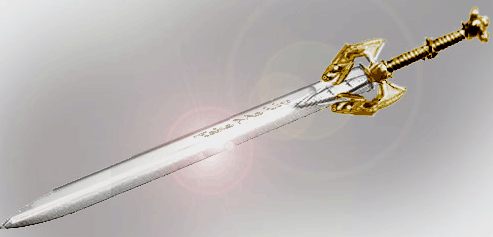 Exploknuckles
-Mechanical knuckles initially made for Axel but given to Miles before Axel met his fate. These mechanical knuckles utilize the summon explosive skill and when something is struck it sends a shaped charge detonation toward the person or object punched, this is even made so all the force is sent forward rather than backward leaving minimal recoil.
Oni blade and gauntlet
-The Oni blade and gauntlet were initially Tatsai's but given to Miles. The oni blade and gauntlet gave a strange mutation to Miles's genetics granting him what is refered to as Oni Blood. This Oni blood is initially always at 1% but can be increased to deliver extra Effects. These effects however override any connection Miles has to his ooze. Miles even holds some sort of telekinetic connection specifically to the Oni blade granting him control over the blade without even utilizing his telekinesis. However this pair of gear is immune to shaping resulting in hiding the gauntlet and blade a challenge. Due to this fact the Oni gauntlet is usually hidden among a wrist mounted electronic scanner that to the public manages all of Sargent R.A.T.s arsenal information since with how many firearms and gear he possesses is too much to keep track of mentally. As for the blade it is kept within Miles's home and if needed he calls it using the Telekinetic connection to it sending it flying for Miles's location at incredible speeds further sped up by shaped jetpacks mounted to the blade by his own shaping but dismissed when not needed or within Miles's hand.
(The black blade not the red one)