Xen Organisms
(The following beings are alien creatures from the xen world that are living things as a result they can be killed but most likely they usually teleport back to the xen realm before they die.)
Hive hand – A living being that acts as a one handed gun and shoots hornets that home in on the target and sting the target to cause rather serious damage. This being may also regenerate it's own ammunition. When not in use this being attaches to Lloyd's left Shoulder waiting for use.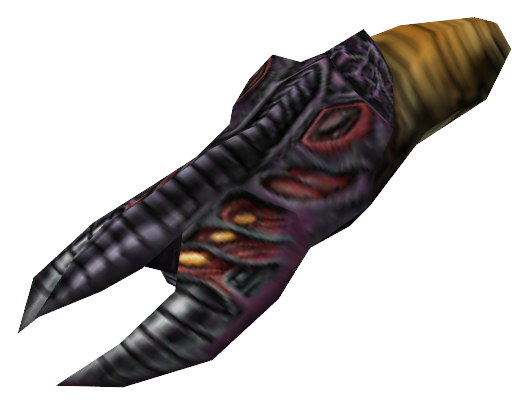 Shock roach – A living being that acts as a one handed gun and emits electrical bolts as shots and causes rather serious electrical nerve damage. This being may also generate it's own ammunition. When not in use this being attaches to Lloyd's right bicep waiting for use.
Spore launcher – This fish looking being acts as a two handed gun and shoots explosive spores that cause acidic and explosive damage. It however does not generate it's own ammunition and must be fed spores from a spore pod to be reloaded. When not in use this being curls up around Lloyd's Neck quite similar to a scarf.
Barnacle grapple – This being used to be a being that stuck to ceilings and let it's tongue lingering eating anything that touches it's tongue but now acts as Lloyd's personal grappling hook using the tongue to attach to anything organic only. It can even grapple smaller beings to be sucked into the barnacle grapple and eaten alive. If used this way against a larger target it will bring Lloyd closer to the target and eat away at the target alive. It's ammunition is obviously unlimited since it only uses one tongue, however if the tongue is cut it is unusable for the day while it heals. When not in use this being is attached to Lloyd's right shoulder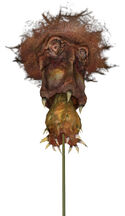 Spore pod – This pod spawns the spores to feed the Spore launcher and remains attached to Lloyd's right hip. It generates the ammunition one spore per post and may only hold three spores at most at a time.

Snarks – These creatures are small baseball sized alien bugs that remain incredibly agile and fast. On throw they seek out the nearest target and bite at it til they explode. The downside to these Snarks are they see everyone as food even Lloyd so if thrown and no one else remains visible to them they will track down Lloyd and attack him. They are grown in a Snark pod that remains attached to Lloyd's left hip. The Snark pod generates these Snark's two per post and may only hold five at a time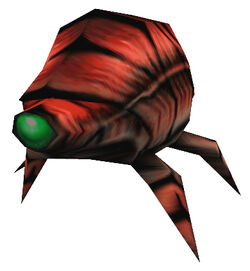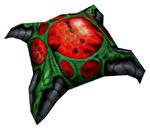 Mushi listings
(These beings are the mushi that accompany him within his own body, Many he is still unable to release and control but few seem friendly enough to listen to him. Unlike the xen however these creatures cannot die easily and require a energy spiritual type attack to actually harm.)
Smokey – This Mushi's name is unknown therefore it has been nicknamed Smokey since it has the appearance of thick smoke. This Mushi likes to stick to other Mushi and fade away making it simply an inconvenience. However this mushi along with many of the others has evolved to be able to tie down and grip humans.
Combat uses
– Can utilize this Mushi to create a fog to cause impaired vision among the area and tie down the enemy temporarily
Mushi visuals – Thick white smoke
Visibility to normal eyes - 100%
Manago – This Mushi multiplies in the dark and causes pain to the host when the eyes are exposed to sunlight. If the host holds this Mushi for a lengthened time and has the chance they will eat the eyeballs up to nothingness leaving empty eye sockets if exposed. The furthur the Manago multiply the more the pain of light intensifies.
Combat uses
– Can cause an enemy to become blind in the light
Mushi Visuals – featureless black snake
Visibility to normal eyes - 30%
Un – This Mushi eats sound leaving the host deaf in the ear it took home to. They can easily be eradicated with some salty warm water poured into the infected ear.
Combat uses
– Can deafen enemies with this mushi
Mushi Visuals – A snail that twirls clockwise
Visibility to normal eyes - 85%
Ginko – This mushi is a a gigantic silver fish with no eyes that swims through an endless ocean of Tokoyami. When someone experiences the light from the Ginko they must sacrifice an eye to the Ginko to survive and remember just one fact to avoid losing their soul to the Ginko. If someone does survive the encounter their hair becomes as white as ash and their one eye that is left becomes green which grants them night vision.
Combat uses
-None but with Ginko already taken effect with Lloyd he has pure white hair and one green eye giving him the effect of nightvision.
Mushi visuals – A huge silver fish of light with no eyes only seen by those affected by it.
Visibility to normal eyes – 50%
Mushi Banquet – This ceremony Gathers Mushi leaving a green teacup of life waters that tastes amazing. If one drinks the entire tea cup they become Mushi themselves. This however is hard to resist because once someone sees the mushi they are drawn to follow the line and join the circle
Combat uses
– Can summon the banquet to wander the battlefield giving him cover to hide among during the battle and utilize the green teacup as a distraction,
-Can drink the mushi banquet liquid to become part or full mushi temporarily
Mushi Visuals – Solid white ghosts walking slowly in a line and passing a green tea bowl to the target
Visibility to normal eyes - 100%
Umen imen no awai – This mushi has the effect of bringing all dreams to reality literally. Once a host is affected by this mushi whatever the host dreams the mushi makes a reality. They say those who rid themselves of this mushi slowly lose their soul over the months.
Combat use
– Utilizing its evolved form he may imagine something and make the mushi come out bringing it to life
Mushi Visuals – A swarm of maggots
Visibility to normal eyes – 45%
Tempingkuza – This mushi exists high in the sky similar to the looks of a comet. When this Mushi hungers it leaves a line of thread acting as a fishing line. When an animal touches this thread it attaches to the animal and yanks it up within the air. If the animal is too large to swallow it drops the animal to the ground. Those who are almost swallowed can be given Mushi traits making them a half Mushi put in limbo. This also can eliminate memory of what and who they were before.
Combat uses
-Able to have the mushi leave threads for his target to become attached and control him yanking them in their flight
-can also grant targets flight of his control
-grant mushi traits to those he chooses and eliminate it just as easily.
Mushi visuals – zig zagging and flickering comet in the night sky and white thread hanging from the heavens.
Visibility to normal eyes – 75%